ronaldo+hairstyle+2009
Good lord. Whatever happened to simplicity? It looked like a three ring circus up there today.

Now come on. Time machine? With a picture of outer space and stars? This looks so gimmicky. They are getting to be like Microsoft and just adding new features instead of making things easier and streamlined. Why not just improve the Backup program that comes with .Mac or include it for free? Do we really need another interface? To me it looks like form over function.

Not very innovative so-far. The Intel change took the OS's soul and the inspiration. Very disappointing. Mail, completely overloaded, like MS office.

No mentioning of resolution independent GUI, etc. There are a couple of UNIX OS's out there that are more innovative.

All in all, Apple seems on the wrong track.
---
may could Mullet+haircut+
cant wait... merom book pros cmon!!!!
---
Cristiano Ronaldo Haircut
triceretops
Apr 27, 08:55 AM
That's good enough for me.

Apple's only screw up here was keeping the infinite database forever on your phone and backed up to your Mac. Their was no reason to back it up to the computer and no reason to keep the data on the phone after it was passed to Apple (encrypted, de-identified etc.) but I suspect the reason was simply "we weren't doing anything bad with it so we never even considered we should delete it later."

I guess you missed the part about the data is used in the phone to help the phone determine it's location faster and more precisely when you do want to use location apps (which I do a lot). So if you don't back the data up and you have to restore the phone (happens every time you do an update) then you would take a hit in location performance.
---
CRISTIANO RONALDO HAIRCUT
NebulaClash
Apr 27, 08:11 AM
5. Can Apple locate me based on my geo-tagged Wi-Fi hotspot and cell tower data?

No. This data is sent to Apple in an anonymous and encrypted form. Apple cannot identify the source of this data.

So while it is true that the iPhone does note Wi-Fi locations in your general area, and thus it does "track" you in that sense, it is only on your Mac that this information can actually track you. The information sent to Apple is anonymized, and thus not trackable to you.

Apple is NOT tracking you. Your phone creates a database that could track you IF SOMEONE HAS ACCESS TO YOUR MAC. But if that happens, they already know everything there is to know about you anyway and have no need to check your Wi-Fi database. They've got your Address Book info, your bank site links and cookies, your email, your personal letters, etc.

The only reason to slam Apple is for not culling this local database. Now they will. But Apple was NEVER tracking you. Apple is not lying when they say that.
---
But in 2009, Cristiano Ronaldo
blahblah100
Mar 31, 05:30 PM
Just speaking to your 'year of the linux' quote that's all.

I completely agree, but let's be honest, Apple and Microsoft fans are no different.
---
cristiano ronaldo hairstyle
Only Apple? The Android system does the same thing, AND sends the information off to Google. The iPhone/iPad just logs the data to a file. Seems a bit unfair to me, but we'll see.
---
Cristiano Ronaldo
DeathChill
Aug 7, 10:18 PM
Running the preview now... some nice developer level stuff that I cannot ebelish on however beyond what was talked about in the keynote.

The new Core Animation stuff looks simple yet powerful and will increase the visual effects and feedback that application can do with only minor work on their part.

Also new Xcode Tool capabilities are well... great to have (need to review what is available publicly before I can comment more).

Next spring Apple will have a good answer to Vista with little disruption to end users and developers (unlike Vista).
So it's fair to say that developers have received their copy of Leopard?
---
C ronaldo cropped -short
WISHES:

What os x needs to kill vista is to stop rehashing the same tired window metaphors and come up with something killer. Even if, at first, it has to fit into a new view INSIDE a window. It's been 15 years that researchers have had better and cooler ways to get around and use a computer. Spotlight is the perfect technology to slay the hierarchy metaphor but a poor poor implimentation. Even something as elementry as "bumptop" or ZUIs, but hopefully along the lines of Jeff Hans work which I'm sure we're all familiar with by now. or god forbid something original.

apple puts one tiny little gadget such as a gyroscopic sensor in a laptop and people have been going nuts writing cool software. imagine what would happen if they actually tried


Jeff Han rightfully mocks Bill AND steve (http://www.ted.com/tedtalks/tedtalksplayer.cfm?key=j_han&flashEnabled=1)
---
cristiano ronaldo hairstyle
There's allready en new beta of Adobe's Lightroom, Does that one run native under on the intel machines?
---
cristiano ronaldo haircut
If they delay iPhone 5 until Fall/Winter, then they'd better release the white iPhone 4 some time in Spring as promised by Phil Schiller. :mad:
---
cristiano ronaldo haircut 2010
Macky-Mac
Mar 22, 08:32 PM
......It may have just been luck, but if so it was a remarkable piece of luck to have 4 submarines, a flagship-capable surface ship and all necessary support in the right place at the right time. These things don't travel very fast.

in the mediterranean? The US 6th fleet is permanently stationed in the mediterranean, so yes, these ships were probably all quite readily available.


6th Fleet (http://www.navysite.de/navy/fleet.htm)

Sixth Fleet, headquarterd on its command ship USS MOUNT WHITNEY (LCC 20), consists of approximately 40 ships, 175 aircraft and 21,000 people. The Sixth Fleet in the Mediterranean is the major operational component of Naval Forces Europe. The principal striking power of the Sixth Fleet resides in its aircraft carriers and the modern jet aircraft, its submarines, and its reinforced battalion of US Marines on board amphibious ships deployed in the Mediterranean.

and they've had several weeks to move them around
---
Cristiano Ronaldo Latest
boncellis
Jul 20, 12:17 PM
I hate to burst everyone's bubble, but Kentsfield will not be appearing in any of the Pro machines for some time.

Apple will be using them exclusively in the Xserves, at for the most part of 2007. This will finally give Apple another way to distinguish their server line from their pro line.

That makes a lot of sense, actually. I hadn't thought of it, but with a server class processor ostensibly powering the Mac Pro, it begs the question of what the servers will get as an upgrade.

The simple answer--next generation server chips, duh!
---
Cristiano Ronaldo hairstyle
Won't Adobe use Core Image when the Universal Binaries come out? If both Quads had the same high powered graphics card, the benchmarks may show them to be the same with Core Image tasks.
doubt it. because having core image would mean a totally seperate windows version. developing 2 totally different codebases would take forever.
---
Cristiano Ronaldo hairstyle
claus1225
Mar 31, 05:48 PM
I used to have a friend who would spend days tweaking the LINUX OS code so that his browser would look super duper cool.

How many people like that do you know?
---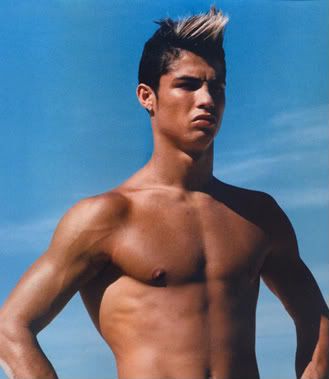 cristiano ronaldo haircut.
Can someone briefly explain the huge benefits of Santa Rosa (in layman's terms) or post a link to a thread/description of it?

Much thanks.
---
Cristiano Ronaldo Hairstyle
The vast majority of conservatives are WASP-ish,
cristiano ronaldo haircut 2010
That is a good point... I was "lumped" in as a liberal and I don't consider myself one. I am more moderate. Live and let live kind of guy...

I'm a mixture. Liberal, moderate, and conservative.
---
Cristiano Ronaldo Hairstyle
BruinJohn
Sep 19, 02:40 AM
So, the shipping says 5-7 days for all the MacBooks, and 24 hours for the MBP. I think that means the MacBooks are getting refreshed next week. Either that, or the MacBooks are selling like crazy so its hard for Apple to keep up with demand. But the MBP have been out longer, and need a refresh. Just change them all Apple, and put the current models on sale. I'd love to get a white MB for around $900!
---
cristiano ronaldo haircut.
You list ONE issue with the iPad, that it looks too much like the iPhone, and then go on to a laundry list of issues on the Xoom that culminates in a tech support call and THAT is your preferred device?

Rock on winner. I have a bridge I want to sell you.

If you want I can give you a laundry list of things wrong with the ipad.. it will surely be longer than my xoom cons?
---
My Radio Shack Manager knows nothing about PIN numbers and is opening at normal 9AM tomorrow. Says he still doesn't know exactly how the pre-orders will be conducted. Hasn't heard from corporate yet. Still in the dark he says. :confused:
Incredible.

The company call was at 3:30pm cst, then my DM held a call with us at 5pm cst. No reason he shouldn't have the info.
---
Well I wouldn't say "Nothing" as obviously it required a lot of programmer time to move the OS to Intel, create the new XCode compiler, create & debug rosetta, re-write all of the iLife, and Pro-Apps offered by Apple, etc. etc.


This should be pretty trivial for the most part, mostly just a rebuild of the code base plus a rewrite of some tiny core bits that will be in assembly code (like locking primitives) and a few drivers. The normal applications should require approximately no porting effort at all.

I would point out that the Intel compiler for OSX is much better than the PPC compiler for the same. I found a couple extremely irritating compiler bugs under XCode PPC, while I have never even seen a bug in contemporaneous versions of GCC for Intel. This by itself is worth something. Current versions of GCC for x86 and AMD64 are on par with the best commercial compilers. GCC for PPC was a usable but inferior pile of dog poo that gave me many problems.
---
Evangelion
Aug 12, 03:45 AM
iPhone = bad idea and difficult to implement beyond the USA.

If they are smart, they will make it a GSM/UMTS-phone, which is THE most widely used system there is. Then it would work in just about everywhere. USA is just about the only place using those weird systems for mobile phone, but they do use GSM in USA as well. So why use anything else than GSM?
---
Hastings101
Apr 6, 03:26 PM
did you feel dorky typing XOOM so many times. I would, because its dorky. It's the same reasons that everything in "Xenon: Girl of the 21st Century" was dorky

Don't you dare insult Zenon. Those were the best preteen made for tv disney movies ever. :mad::mad::mad:
---
Really, completely new? As in, to Core 2 what the G5 was to G4? In just two years?? I guess they're really ramping things up... Core 3 Hexa Mac Pros, anyone?

Intel's stated plans as I understand them are thus:

A new micro-arch every 2 years. I don't think they mean brand new so much as "significant changes/improvements". Whether this is akin to Yonah->Conroe or Netburst->Conroe remains to be seen, but more like the former (or perhaps Pentium-M -> Merom -- Core Duo was very much a stop-gap). Little has been released about Nehalem, but at one time it was slated as "based on Banias/Dothan", due in 2005 and expected to ramp to 9/10GHz.

"Off" years will recieve derivative versions (e.g. Merom->Penryn), which appears to be mostly stuff like L2 cache increases, faster FSB speeds (at least while we have FSBs - 2008 looks like the year for DCI, finally), die shrinks, increasing the number of cores (expect at least one to be more cores on a single die instead of two dice/package), etc.

Die shrinks are currently scheduled for "off" years, in order to stablize the process ready for the new micro-arch in the following year so Intel doesn't need to deal with both new process and new arch at the same time, and presumably in part to keep speed increases coming in "off" years

Of course, roadmaps can change quite rapidly -- it's not that long ago that Whitfield was expected to debut late 2006 with DCI (FSB replacement). Whitfield was replaced by Tigerton which is now due sometime in 2007...

One thing's for sure, Intel appears to have learnt a great deal from the Netburst fiasco -- how not to do things, if nothing else. Unfortunately, they still estimate ~50% of processors shipping in 1Q2007 will be netburst-based (mostly Pentium-D).
---