Rudolph Giuliani, the ex-mayor
I hated Shift, it seemed to me to pretend to be a sim, at the same time acknowledging it was an arcade game. I can't stand AI that will try to get revenge anyway, as that should be black flagged. Race clean or gtfo IMO.

To each his own, I find it takes a little out of the race to drive against an AI programmed to blindly follow the predetermined race line.

But the driving itself feels magnificent on GT5. I'll spend most of my hours in Time Trial!!
---
Rudolph Giuliani
bedifferent
Apr 27, 11:13 AM
Maybe you'd prefer discourse where everyone agreed and had the same opinion as you. Maybe some white fluffy bunnies too? ;) I kid.

At the end of the day - an issue was indentified. Apple is responding. Arguing whether or not there is an issue is silly. Arguing whether or not Apple is responding is silly.

That's not addressed to you - but everyone at this point

Civil discourse is great, arguing over silly semantics on an issue when all the facts have not been fully presented seems to be "putting the cart before the horse."

As they say, opinions are like a**holes, everyone has em and they all stink ;)
---
candidate Rudy Giuliani
And assume you go to a place you have been a month ago, wouldn't having the database speed things up when you return to that location a month later?

(Though I agree the effect will be very minor, as soon as you land with a plane, the iPhone will start populating that database, thus having the data from a month ago will only be relevant if you need location data right away after landing.)

I'm not as impatient as some on here. If I have to wait another second or two - I'm good. :)
---
Rudolph Giuliani the Cross
Wirelessly posted (Mozilla/5.0 (iPhone; U; CPU iPhone OS 4_3_1 like Mac OS X; en-us) AppleWebKit/533.17.9 (KHTML, like Gecko) Version/5.0.2 Mobile/8G4 Safari/6533.18.5)

It is pretty incredible that the ignorance around Mac OS releases never stops. For one thing if you loose data on a computer, the only person to blame is the one staring at you in the mirror.

Even the whine about nothing worthwhile for the user is a bit old and reflects what we heard about SL. Yet SL on my early 2008 MBP was a drastic improvement for the user right out of the box and just got better with each update. User facing features are the only reason to update, fixes to underlying facilities can go a long way to justifying the software update.

As to the server integration, it hasn't and never will be a product worth $500. It is great that Apple is adding support to the base install but people need to realize a few things. One is that Mac OS is UNIX, people need to get that through their heads. Thus Apples server product only really adds in what is already seen in many UNIX intallations in a base install. Speaking of which much of that functionality is well established open source. Second the pricing of "server" software seems to be tailored to fit the mentality of the corporate world, where they feel they need to pay big bucks for something trivial. It is no wonder that Linux as established itself as a server OS in the SOHO world and at some of the more forward thinking larger corporations. As others have pointed out the basics of UNIX have been around for ages now, very little new territory is being cleared here, thus little justification for up charges on server software.

Finally it is a bit cowardly to avoid the future because you see nothing of value there for you personally. It is frightenly similar to the attitude seen in those that cut their own wrists.
---
pushing Rudy Giuliani#39;s
mac1984user
Apr 27, 08:33 AM
Apple's solution is fine by me. They wouldn't have done anything if there wasn't so much press about it, but I guess that's a good reason (one of the only ones) for the press to exist. Still, they all managed to get it a bit wrong, though. I noticed (like so many others out there), that the map wasn't recording my EXACT location, but just cell towers and wifi spots I may have accessed. The info didn't really bother me. It wasn't like it had me pegged at my local pub - or did it?!?! =)
---
Rudolph Giuliani.
Well I'm excited about Leopard and look forward to it's release. Rightly so should Apple keep hushed about what ever new features are to be added. Those nay sayers out there to Leopard should wait until they use it before they begin crucifying it, after all what hand did they have in the development of OS X??

Only thing that plays on my mind is whether some new features will be limited to Pro line Macs. I recall when Dashboard first came about iBooks couldn't display the ripple effect for example whereas Powerbooks could. I certainly hope we MacBook owners won't suffer the same fate with things like the new iChat, Mail or what ever.
---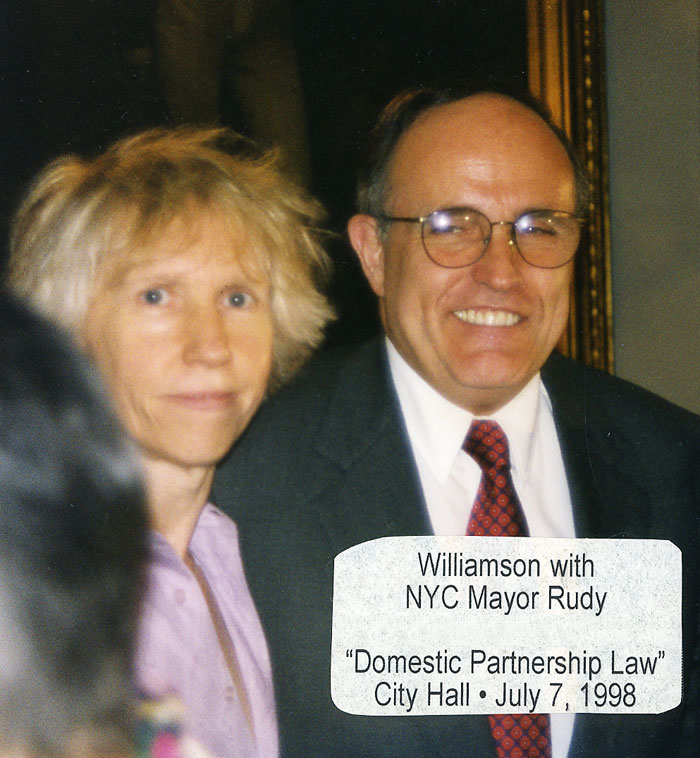 with Mayor Rudy Giuliani
Nice...I'm glad to have a more rare piece of hardware. I love mine and have no issues, it'll only get better over time.Reminds me of the days of the RAZR, that's what the iPhone and iPad have become.

Honda sells a TON more cars than BMW by a huge factor...I'd rather drive a BMW, I guess you're all happy with the Hondas :)

Nissan/Dodge driver myself, as well as an iPad/iPhone user.

We all choose the product that best first our needs and buget, and these are my choices.
---
IMAGE: Mayor Rudolph Giuliani
iliketyla
Mar 31, 08:46 PM
This is where the Android "community" is going to split.

The ones we've heard from today don't give a crap about "open" or "closed" or Google or anything else other than the fact that Android is not Apple and is stealing some sales from Apple. They'll defend whatever Google does, because all they want is a platform that's not by Apple to take over the mobile space.

The true believers in the "open" propaganda, as ridiculous as it is and as untrue as it's always been, are probably still in a state of shock. By tomorrow they'll split into two warring camps. One will defend everything Google does because they perceive—wrongly of course—that Android is still in some indefinable way more open than iOS, and they'll blow that little invisible kernel of "openness" up until that's all they can see.

The other camp will be viciously angry at Google's betrayal of the True Religion™ and will be flailing around for some other messiah to deliver them from the "Walled Garden" of Apple and now, Android. These are the people who were saying the other day that "Motorola could rot" with their own OS.

Any suggestions on who the zealots will turn to in their hour of despair? I honestly can't think of a candidate, but then I'm not nuts—at least not that way.

Yeah! That's what'll happen!

Or they'll do further research and realize that the implications in this SINGLE ARTICLE might not be 100% true.

To the everyday user this means NOTHING as they have no knowledge of what open truly means, and therefore can't take advantage of it.

To the users who actually have the knowhow to utilize open source operating systems, this might mean a minor hinderance, but not a complete game changer.

And for clarification, the former is the vast majority.

Did no one notice the obvious bias in this article? It's slanted, and the author clearly thinks that Google has been wrong this entire time.
---
It was called quot;Rudy Giuliani
You originally said...

...which as I've said, a few times now, is incorrect. If you only count 4 games, as you originally said in that quote, that only totals 46M. And besides, if you check that link I originally provided, which is FROM POLYPHONY THEMSELVES, you would see that the total worldwide is only 56M. At least if you're going to quote the number in the wrong context, use the right number.

well i did have demos just before that quote. but yes, what i meant to say, and what i actually typed, was two different things. but i think you can see what i was trying to say, and is clear: NFS has sold more, but has more games out there.

Yay, let's play the "Twist The Numbers To Fit Our Needs" game....

100M / 15 years = 6.66M per year (Need for Speed)
56M / 13 years = 4.31M per year (Gran Turismo)

So yea, Need for Speed sells 50% more per year. YAY, math is fun!!!

math is fun, and yes, per year, NFS has sold more. but they released more games to do it. and on more consoles, to break it down even further

It is. I don't like the direction Polyphony has taken the game. A game that used to be my favorite game. It disappoints me. Thus my frustration. I bought my PS3 with the hopes

did you buy GT5: prologue?

for someone who at one point really liked the games/series, i don't see why you wouldn't give this game a shot, at least after reading reviews first. i find it very frustrating to see people make judgements before the game is even out

Can I buy one and drive it to work? No? Then it isn't real, intentions or not.

no matter what anyone says, it is a fact that they intended to build a car specifically for Gran Turismo. that in itself is very impressive to me.

Then according to you, Wii Play is the "greatest" video game of all time. Just reading that sentence should show you exactly why sales have very little to do with the quality of a game.

i never said that the most sold game is the greatest. but i do think sales is one aspect to consider.

I keep saying this, but it seems people don't really understand it. Sales, which deal with numbers, are an objective measure of something. Greatness, which deals with personal preferences, is a subjective measure. You can think GT, or the iPhone, or Star Wars, or whatever, is great. That is fine, and a personal opinion. But, the sales of those things can't be "great". They can be large, and they are, but they can't be great.

i understand this, but i don't think you understand what i am trying to point out. you are correct in that what makes something great is personal preference, and when many people have that same personal preference, it turns into many sales.

let's try this analogy. take tennis for example. who is a "greater" player - Roger Federer or Andy Roddick? Roddick has played some great games, and has a great serve, but Federer has many more championships. almost everyone would say Federer is greater (if there is such a term).

think of championships as sales in this case. i know it's not the best analogy, but the first thing i could think of.

And really, if someone uses the sales of something to qualify the greatness of it to themselves, that is kind of sad. Quite a few of my favorite things, which I consider great, didn't sell very well. That doesn't make them any less great to me.

you do make a very good point here, but again, i think you are taking my point out of context.

my whole point in all of this, is not that i think GT is the greatest series of all time or whatever, or that they have sold the most, blah blah. all i'm trying to say is that they have a very respectable racing series, one of the best, and i think this next game will continue their success. and i pointed out that past sales show that they have had much success. that's all i'm really saying here

But anyway, I don't even know why I'm arguing about this. I'm not even going to be buying this game. I'm done with this thread now. I'll just tip my hat, and bid you adieu.

it seems we are arguing just to argue. i hope you at least read some reviews once the game is out before making a choice like that. and i also hope that this thread hasn't led you to that decision

It's refreshing that I don't have to go to gamespot forums to see a pointless immature fanboy pissing match :rolleyes:

sorry for the inconvenience. you don't have to read this you know.
---
–Mayor Rudolph Giuliani
APPLE!? Arrogant??? Naaaaaaaaahhhhhhhhhhhh.

And how do you know you guys are going to hate it? You never even used it yet. My God some of you people are such complainers. Put some dirt on it, make a hill, and get over it.

I'm sure I'm not going to hate it, it's probably gonna be fabulous, but it's not an innovation as Steve advertises it. In fact, not a single thing they showed about Leopard up to now is an innovation. Everything already exists somehow. I'm not complaining about the new features of the OS, but about how they present them. They're all (hopefully) improved versions of existing stuff!!
---
Rudolph Giuliani
Nothing impressive really... top secrets should be good.

Time Machine is ok. It looks awful for an Apple product, what is up with that background? Ugly. And I really want to know how much disk space it will be taking backing everything up constantly. I would most likely turn it off.
---
Lightbox Images - The
With those frequent speed bumps I begin to worry that my G5 imac will not be fast enough to run Leopard...
---
with Rudolph Giuliani at
bedifferent
Mar 26, 02:54 PM
My bet is on distribution on custom design USB drives, like this one (http://molotalk.com/new-macbook-air-ships-with-custom-printed-software-reinstall-usb-drive/).

Great for now, but Apple wants to keep going green by slowly eliminating DVD/physical media as done with CD's. ISP's are improving bandwidth (slowly), companies are decreasing the size of their software (some like Adobe and Apple breaking Suites for individual applications) so wireless downloading may prevail.

I do not have any installation DVD's aide from the two which came with my 2010 Mac Pro.

1. All my applications are on another hard drive (3rd SATA bay on my 6-Core Pro, but can easily use an external drive).

2. "Time Machine" backs up all the applications

3. Purchased software almost always emails you a receipt with download links in case you need to re-download an application (plus allowed updates)

4. Instead of installing from a DVD, mount the .dmg and install, much faster.

5. I replace applications with their online updates in lieu of adding another DVD

I've got 150+ applications (Mac and Windows) totaling 187 GB. As with a media library, images are shrinking, downloads are faster (if you can download a 1.5+ movie through Netflix or iTunes, you can easily download software, OS X updates are large sizes as well).

In short, DVD's and USB drives for application installations will eventually fade out. If you need to install an OS from scratch, I'm certain Apple will still package the original DVD's with your computer (or in this case a thumb drive). I'm interested in learning what Apple intends to do with that new server farm in N.C. Storage of applications and/or the rumored storing of your media for access anywhere with an iDevice or Mac/OC.
---
Rudolph Giuliani Backstage
will run only on iPhone 4 or iPad 2... :eek:

;)
---
Rudolph Giuliani Backstage
studiomusic
Apr 10, 10:31 AM
It's that they never have announced pro-level products at/alongside professional trade shows prior to this. CES is one thing, but I don't ever recall Apple ever placing any presence at/during NAB or AES (the latter of which they would present something related to the Logic Pro) before.

They did it in 2007... I was there.
Back when Myspace was cool. (http://www.myspace.com/studiomusic1/blog/253736149)
---
Rudy Giuliani
FriarNurgle
Apr 27, 08:17 AM
for all the tin foil hatters out there, what will happen to the phone performance when the location services are turned off?
---
Mayor Rudolph Giuliani and
ninethirty
Aug 6, 03:15 PM
You have absolutely no chance of winning any legal battle based on what you've described here.

Also, while you're whining about who stole what from who, maybe change your 'save' icon on your site. It's nearly identical to Apples.

As Apple applied for the trademark, it will not be approved.

It is up to Apple how they want to proceed. A fight that can't win, no matter how much money they have.

Mac Pro has been the premier Mac dealer in the same county as Apple since 1988. Out of all the names for this new line of computers, why choose one that they know they cannot have.

We are already getting countless support calls for the macbook pro. It seems they assume we made them When we can't help them, they seem to get very upset.

Mac Pro is in a position to file for a court order not to release any computer that bears our name.

So get ready WWDC, we will be watching.



Mike Ajlouny
President
MAC-PRO.com
---
QG Politics Battle - New
Maybe one of the drives will be Blu-Ray.

Appleinsider is saying that it can be used for both at your choice, but you have to go buy it and put it in. Not a add on to ordering.

So excited... How come no FW800 infront? thats a little crazy no?

Just think if this was apple leaking out information when really its a completely different design. Since they're was that leaking lawsuit and all. Wouldn't it be great if the figured out the sources leaking internaly and made those sources give Appleinsider false information.

Come August 7th, It's completely different... (oh just woke up from my dream.)
---
Giuliani to be McCain#39;s VP
claus1225
Mar 31, 05:48 PM
I used to have a friend who would spend days tweaking the LINUX OS code so that his browser would look super duper cool.

How many people like that do you know?
---
drumpat01
Aug 25, 02:47 PM
I tried to type in my battery serial number only to have it say it was invalid even though I fell with in the given range of serial numbers. So I called Apple and after waiting on hold for about 20min they said I WAS VALID! So I dont know whats going on, but if you seem to be having the same problem you should DEFINITELY call them and double check your battery serial number.
---
mdntcallr
Jul 27, 11:39 AM
No that isn't true. The desktop Macs have socketed processors but the portables are soldered to the logic board - there are sites that do dissections of new machines and they confirmed it.

Replaceable: iMac, Mac mini
Soldered: MacBook, MacBook Pro.

Please don't post false and misleading information.

Chundles and the others are right. THE CPU is SOLDERED on to the logic board.

That said, it does NOT mean the CPU cannot be upgraded. There are mac upgrade companies which are soon to launch services where you can fedex in your laptop in, and within days, they will replace the cpu, solder expertly on a new one, and you will be very happy with a new / faster CPU.

honestly, right now i do not believe the power differential to be worth it. it would be better to wait for chips with a larger speed differential.
---
portishead
Apr 12, 12:20 AM
- native video support (years behind in this)

I use ProRes for almost everything, so this doesn't bother me.

- viewing upsized or downsized video without degradation

Not applicable to any workflow I've used.

- proper render management

What do you mean?

- removal of "insufficient content" and "cannot split a transition" errors

Never had problems with this.

The major thing, though, is they HAVE to start utilizing multiple cores. It's not and as video gets larger, rendering gets more taxing.

I agree with this 100%, but it doesn't mean FCP doesn't work. Obviously people have different needs with different workflows, so what I need/want is going to be different from what you need/want, and someone else etc.
---
My 3Gs contract ends in June and Apple will be pushing it's luck for me to go half a year without me being tempted to jump platforms instead of waiting for the iPhone 5.

ooh they'd better if they know what's good for them! you tell them off!
---
boncellis
Aug 11, 01:43 PM
There's something fishy about this "story." The premise just seems unlikely.

That said, I think Apple will end up doing something about the gradual encroachment of their market share by mobile phone manufacturers. There are some qualifiers, however:

* It can't cannibalize iPod sales, which means either the "iPhone" will somehow be limited, or the iPod will see new features separating the two.

* It will have to be more than just a mobile phone with iTunes, integrating essential smartphone functions and something else that makes it stand out (maybe VoIP capability).

These are pretty obvious when you think about it, and I'm sure Apple has been thinking about it for some time. An Apple mobile phone could be imminent, you can sometimes tell by looking around the industry and spotting the "preemptive" or anticipatory products from competitors. It's not an accident that the LG "chocolate" phone looks a lot like the iPod Nano, in my opinion.
---