Miley Cyrus Gets A New Tattoo
Matthew Yohe
Apr 7, 10:41 PM
:mad:Best Buy told me today that they had them in but Apple would not let them sell them. I have been going for two weeks every other day and they finally tell me they have them and can't sell them. I hate this crap. I want my IPad 2.

Well of course they say they have it now, because they can't sell you any. They also probably had it the various times you went in, and yet lied to you.
---
Tattoo number five for Miley.
Appreciate it, Multimedia.
Thanks.
---
Miley has a heart-shaped
Let's be frank...

Whether totally Radio Shack's fault or
not this was a very sloppy launch for the
company.

Quite frankly, I think they were just given
the ******** end of the stick by Apple who
obviously is throwing them whatever leftovers
they have which now must be distributed
across all their stores.

I'm stuck. This phone is costing me $650
and I will not spend that kind of money without
getting $200 off on my trade-in. So I am
sitting here just waiting it out. It may work
out well for me because I may luck out on a
White iPhone by the time my store gets stock.
---
Miley+cyrus+heart+tattoo+
What's with all these tablets being advertised in landscape??

I've had the first ipad since it came out last year and I'd say my Portrait to landscape usage ratio is like 70% portrait / 30% landscape.

I view webpages, read the WSJ, NYPost, books, ipod etc.. all in portrait.

Landscape is for tv shows / movies and some games.


Why are these tablets all designed as if the user is going to hold them landscape 90% of the time? Are magazines designed to be held landscape? I don't get these horizontal tablets.

I think the majority of the people use landscape (but don't quote me on that).

Most activities (websites, emails, documents, etc) require scrolling top to bottom, not side to side, so landscape will usually give you a greater view usually.
---
Miley Cyrus
HecubusPro
Aug 27, 06:25 PM
I hate to say it, but I think the chances of Apple dropping the merom chips into laptops before September 5th are pretty slim. It's probably more likely that the waiting times are due to back to school rush shortages; Apple has doubled its laptop market share with the Macbook. http://arstechnica.com/journals/apple.ars/2006/7/25/4753

I agree 100%.

In addition, thinksecret reported earlier this month that we might be seeing an updated case for the MBP. http://www.thinksecret.com/news/0606macpro.html While this would be a good thing, because it alludes to Apple maybe addressing the heat issue, it is pretty unlikely that Apple would start shipping a machine to buyers without diclosing that the case looks different.

I've always loved the current look of the aluminum enclosure for the MBP's, so I'm not necessarily looking for a different enclosure, though I wouldn't mind if they did. It's what's inside that counts, right? :p

IMO, I believe the new enclosure will basically add easier access to swappable HDD's like the MB. It doesn't seem appropriate for a lower end model computer to have a feature the professional level model should have. That's why you pay the big $. I think the enclosure will remain the same, but we'll see an update that will allow users to change out their hard drives if they choose.

Apparently, the September 5th date stems from reports that Apple is scheduled to recieved a massive product shipment from Asia. http://www.appleinsider.com/article.php?id=1965 This coincides with other reports of the new Macs being ready "after Labor Day."

Agreed again. I know it's exciting to think that we'll see new macs with merom tomorrow, but I think that's 99% unlikely to happen considering the report stated that Apple will receive "a massive product shipment from Asia" on the 5th of September (remember, remember the 5th of September:cool: ) that still doesn't take into account the time it takes to ship from their warehouses where they received those shipments, to their retail outlets--Apple stores, etc. My guess would be that we'll begin seeing merom MPB's between the 7th to the 22nd in stores and online. Perhaps that's not a bold prediction, but I think it's a safe one. :D

It's pretty safe to say that we will be able to get our Merom Macs at the very latest by the second week of September; thus, we will all be able to capitolize on the ipod deal that runs through the 16th. Personally, I think that the likelyhood of time running out on the nano deal is pretty slim because that sale is likely in response to an imminent refresh in the nano's own product line. http://buyersguide.macrumors.com/

Though I certainly do hope they'll be available in time to take advantage of the free Nano before that deal runs out on the 16th.
---
miley cyrus tattoo 5.
dethmaShine
Apr 20, 09:21 AM
When you bash him instead of giving arguments, you lost already. Too many immature kids around here crying "troll" instead of using their brain.


I always have given him facts with my arguments, but right now, I was just asking him if he couldn't see any similarities or not.

No need to act like a mod and enter a conversation if you don't bother to read everything.
---
Miley Cyrus#39; New Tattoo
Damn PowerPC fans.

Apple is INTEL now. We Love Intel Because Stevie Tells Us So.
We hate AMD and IBM. Should Apple ever move to another CPU provider, we will seamlessly transition to hating Intel again. This is the Way of the Mac.

What's so good about G5's anyway? They are slow, too hot, and skull juice.
Why do we love Intel? Because Steve says to, and Core 2 Duo is powerful, cool, not permanently drunk, allows us to run Windows and helps Apple increase its market share.

We love ATi because just like Intel, their products are the best at the moment. We still love nVIDIA because their GPUs are in the Mac Pro.

We love Israel because they make our Core 2 Duos and we love China because they make our Macs. We love California because that's where Our Lord Stevie J is (Don't particularly care about the rest of the US, sorry guys).

We love our Big Cats because they run so fast and look so clean and powerful (Hmmm... Mystery of OS codenames revealed?) and of course because they are not Windows, which are susceptible to breaking...

People who live in Windows shouldn't throw Viruses?

Off track...

Anyway, Rawr to all you PowerPC fanboys (And girls)

Intel 4EVER!

...yeah whatever you say fanboy
---
miley cyrus tattoo 5. cyrus
Full of Win
Apr 25, 04:37 PM
Nike+iPod must be an even more serious privacy violation. After all, it knows how fast I'm going and my calories burned. And it sends the data to nikeplus.com! :eek:

Yeah, both iPhone/iPod and Nike+iPod store the information only on my device and sync it only to my other devices, sending it elsewhere only if I want. But if I can make money by suing about it then I'll ignore those inconvenient facts!

You are skating around the issue of user permission. If you use this app to track your location - its YOUR CHOICE. However, the issue here is that Apple is collecting the data without the option of user choice. Even turning off location services does not stop the collection and submittal to Apple of this information.

That is what is the heart of the matter - do we, as users, have the right to opt to to the collection and submittal of location data to Apple ? With your example, you do, as you can turn off the app at will. However, the same ability does not apply to what Apple is doing. BIG DIFFERENCE
---
The tattoo, Cyrus#39; third,
Which launched 6 months after the original iPhone...and was displayed in February of 2007 with an entirely different interface.

The point is no one will ever confuse this with Apple's iPhone... But what Samsung is doing now is another story.

If you look at each item that Apple takes exception with individually it seems silly, but when you put them all together in a single device it's a twin to the iPhone... An iClone.:rolleyes:
---
miley cyrus tattoo of justin.
Something I'd like to see is the framerate on Doom 3 if I played it on an 8-core Mac Pro w/ 2 of the fastest videocards in SLI/crossfire mode and one of those physics coprocessors (saying Doom 3 was optimized for it).
---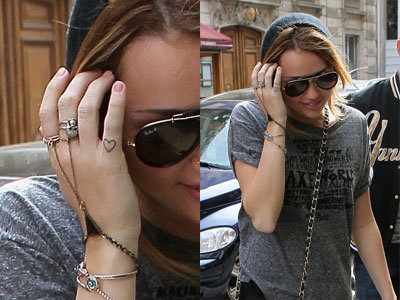 Miley Cyrus Tattoos: Miley
azzurri000
Sep 18, 11:51 PM
1. It's Merom. Not Memrom, Menron, Memron or even L. Ron.


I got a good laugh out of the MacRumors Memron movement (of sorts)!
---
miley-cyrus-tattoo-just-
Great joke, thanks very much...in the same line as Tiger Computer Dealers, right?

We already have a Mac Pro line of products, we are also the owners of AppleLocks, and MacMice. The Tiger thing was silly.
---
Miley Cyrus Cross Tattoo On
My demanding you to give me a reason has about the same weight as all the people in this thread (and many others) demanding Apple provide them with the machine they think they needed yesterday.

It's more along the lines of "We see all these other laptop manufacturers releasing new CPU's in their products. We see that Apple has already recieved these chips. We feel that it is extremely likely that Apple's laptop lines will be updated with these CPU's, and soon. Finally, We don't want to buy a product that will be outdated in just a month or two.

Of course, there's those who have been waiting for more than a couple months. For those, they are looking to 'future-proof' their machine, somewhat. If you notice, more or less every new CPU model that will be coming out is 64-bit, and there's no doubt that developers will write apps that take advantage of that architecture in the coming years. So why buy a computer that has a lower likliehood of supporting all the software you'd like to run over it's lifetime?

As for "needing it yesterday", that is a product of the hype; but I think, for the most part, we feel that the laptops could have been ready earlier - and certainly would have liked Apple to have come out and said "MBP updates soonish" (of course that makes no business sense for clearing inventory though).
---
Miley Cyrus in bikini and a
Wirelessly posted (Mozilla/5.0 (iPhone; U; CPU iPhone OS 4_3_1 like Mac OS X; en-us) AppleWebKit/533.17.9 (KHTML, like Gecko) Version/5.0.2 Mobile/8G4 Safari/6533.18.5)

A bit of selective hearing on the part of MacRumors with the quotes they chose to use. At first the video sounds great, dude is hyping what he saw from Apple. But later he gets called out from another speculating Apple is making a very significant change and distancing Final Cut from the real 'pro' users, dumbing it down, etc, and the guy who has seen it gets real quiet.. He is asked if he will update his editing studio's workflow to the new Final Cut, and he basically danced around the question, pleaded the 5th, and made it pretty clear that he is holding back some reservations about how the industry will adapt to the changes.

Personally I'm very interested to see what they do, I'm sure it will have huge improvements on real time rendering and performance, sounds like the whole thing is being rewritten. But it does worry me that the program could become more for mass audience and no longer the pro application it has been for the past decade.

A hammer is a hammer, the only significant difference between pro use and amature is how you swing it. Sometimes the pros get a little full of themselves and don't realize that tools are just there to express your imagination.
---
Miley cyrus is a tattoo
Mattie Num Nums
Apr 20, 11:32 AM
I'd say even the icon grid claim is reaching. The pictures shown all show the Android application drawer. The actual home screen on Galaxy S devices, what shows up after unlocking, is not the icon grid with a dock. You have to dig into the phone to get to the grid of icons, which frankly again has been shown to be a pretty standard phone UI. Older Palm/Sony models had the "icon grid" UIs in their phones also. :

http://www.mobiledia.com/reviews/sonyericsson/t610/images/front.jpg[/tim]
[timg]http://www.mobileincanada.com/images/unlock/att-palm-treo-600.jpg

Let's face it, the "icon grid" has been a UI for quite a while now :

http://www.computerhope.com/jargon/p/progman.jpg
http://i55.tinypic.com/jzzc53.png
http://www.guidebookgallery.org/pics/gui/system/managers/filemanager/cde15solaris9.png

I pointed out the Grid layout many times in the other thread and was told that wasn't part of the lawsuit. If it is than Apple isn't just stretching... they are being idiotic.

Another thing to mention to is that Androids/Samsungs homepage may look similar but is in fact a lot different. When was the last time you could place a widget on the home screen of iOS?
---
Miles has a tattoo on her side
My 3Gs contract ends in June and Apple will be pushing it's luck for me to go half a year without me being tempted to jump platforms instead of waiting for the iPhone 5.

You do know that Apple's FISCAL Year 2012 starts around the end of September, meaning you would wait around 3-4 months assuming this rumor is true?

http://en.wikipedia.org/wiki/Fiscal_year

I don't mean to single you out, but I see this confusion every time a fiscal year is mentioned, and it bugs me. I don't care if you switch to a different phone. Hell, just get the iPhone 4, it is a world of difference compared to the the iPhone 3G (I just made the switch from 3G to 4 a few months ago, I couldn't stand how slow the 3G was)
---
Miley Cyrus has added another
AppleScruff1
Apr 9, 10:01 PM
I'd wait for Haswell or maybe even Rockwell which will be the 16nm shrink of Haswell.
---
miley cyrus new tattoo on rib
I went for enhanced mail, specifically because of the system wide todo's and notes. All the other stuff is nice, but those features are actually going to make my working life better (I use my mac for my actual work wherever possible). The system wide features of the OS are what truly makes it great for me. The sort of things that you use every day without even noticing them (until you try to do them in windows).
---
Miley+cyrus+tattoo+bikini
Do they? I thought they phased them out, along with most of the other electronic hobbyist items that they alone used to carry.

Some stores do, the one I work in does.

That's me!
Nearest Apple Store is 90 minutes away. Nearest Authorized AT&T store that would carry the iPhone is like 60. Radio shack is just 10 minutes.

I'm wondering though, what would be the advantages/disadvantages to buying it at Radio Shack vs AT&T vs The Apple Store? Once I have the item purchased, will I notice any sort of difference what-so-ever?

Cheers.

Uh... no. It's the same iPhone 4. Why would there be a difference?

I used to work at radioshack too and the resources there suck. Activation will take longer than usual and they can mess up your account/credit. I hated activating phones cause it was a hassle since we were not connected directly with carriers.

Wrong. They've changed that. We get to customers faster, upgrades typically take 5 minutes if ATT isn't slow or down.

I would rather just order it online if I didn't want to drive to an Apple Store.

Seriously, RadioShack needs to die.

Seriously? You mean, your not joking? Why should RadioShack die? The other stores need the competition. And why would you be against going to RadioShack?
---
My initial reservations about this story (the Zune/Universal payment) was much like eveybody's elses on these forums - very bad for us and screw 'em. But now that I've had time to think it through I actually think it's a fantastic idea.

Fantastic for the consumer and the artist, and potentially catastrophic for Universal Music.

Allow me to explain! Somebody buys a Zune or iPod that has had the 'Universal Tax' applied to it and then fills it with 30GB of stolen Universal music. It goes to court and the 'Pirate' successfully argues that he/she has already compensated UMG by buying the iPod/Zune. The judge agrees and piracy of Universal music becomes legal so long as it's for the 'UMG taxed' iPod or Zune. UMG collapses overnight and the artists get to release music on their terms and get more of the money that they deserve, not the faceless corporations and shareholders.

Why is this good for us? Because every entertainment company would become very wary of labelling us all 'pirates' and might actually realise that digital distribution at a fair price is their future.


D'oh somebody has already written something to this effect whilst I was typing!!

But do you really think a court will decide that way. Not likely, especially if it's a judge from the wealth maximisation school of thought.
---
A real mess? That's one fine looking machine. IMO

compared to this, yes.
---
Macsterguy
Mar 26, 04:47 PM
http://www.youtube.com/watch?v=_mL1k4Zwf1I
---
And the vast majority of WASPs are racists? Got it.

Literally, "WASP" does not mean racist, but the term is very rarely used without that undertone. Similar to the way the suffix -person almost always means "woman" (you would not call a man the "chairperson" out of habit).
---
noire anqa
Mar 26, 07:22 AM
I use my computer as a "real computer" and I like virtually every change I've seen. I wish people wouldn't generalize so broadly and presume that because certain additions aren't something that they use that it has nothing to do with "real work."