Robert Pattinson and Kristen
Since apple is part of the Blu Ray consortium wouldn't you think they will use blu ray only?

No, actually. Apple technically supports HD-DVD as well, since are a member of the DVD Forum, which backs HD-DVD. :cool:
---
Kristen Stewart and Robert
Sorry I don't see that happening... Apple has basically always given developers a few months (to several months) lead time with the next major version of Mac OS X. That has taken place yet... so I don't see it being released at WWDC 2006.

I thought we were talking MWSF here, in January, so that's on par with expectations
---
Kristen Stewart and Robert
If you get a reservation pin, you will have a phone on launch day, bottom line. No pin, no guarantee of a phone. With the pin, you can pick it up when you want. At opening or 8pm at night. I would make damn sure i am the 1st person in line at 1PM EST to be sure you get a PIN.

We just cant call it a pre-order, and cant take money before the 24th.

Be srue you talk to the store manager, and again, if you get something other than what i said, call another store.My Radio Shack Manager knows nothing about PIN numbers and is opening at normal 9AM tomorrow. Says he still doesn't know exactly how the pre-orders will be conducted. Hasn't heard from corporate yet. Still in the dark he says. :confused:
---
Vanity Fair magazine has
I'll just wait for the 16 core model.:p
---
Photo shoot for Instyle
chrono1081
Apr 10, 08:08 AM
Anyone else call BS on that whole article?

First, off: Its poorly written. As soon as I saw the "The Apple fan-boys out there will say that..."

Really? Speculation on what Apple "fanyboys" will say? Sounds like Engadget forums.

Second: Didn't ANYONE realize this is all rumor and speculation? Not fact?

I used to come to Macrumors to read about Mac news, but now its all anit-apple crap.
---
vanity fair robert pattinson
How is it biting them in the ass? Android is the fastest growing OS with a larger share than IOS. I think it's been a very succesfull strategy.

Smartphone OS, yes (iPhone vs. Android phones).

iOS as whole (iPads + iPods + iPhones) kills Android numbers though. By LARGE margins.
---
vanity fair robert pattinson
bugfaceuk
Apr 10, 07:08 AM
anything less than the following will be a huge disappointment:

- touch-based editing release together with a huge "iPad"/editing board (probably connected to the main computer with Thunderbolt)
- professional features intact and developed
- integrates nicely with DI systems such as DaVinci

best,
jon m.

Faster horses.
---
Two new Vanity Fair (2008)
epitaphic
Sep 13, 07:59 AM
What I couldn't understand - I couldn't see it explained in the article - why is the dual core Mac Pro (i.e. with current Mac Pro with 2 cores disabled) faster in so many tests than the 4 core Mac Pro.

probably due to latency involved in distributing the load across the two processors. that's the same problem a single Clovertown would have. Only true quads wouldn't suffer from these problems (earliest seems to be Harpertown in don't know if there are any non-MCM Xeons scheduled before then)
---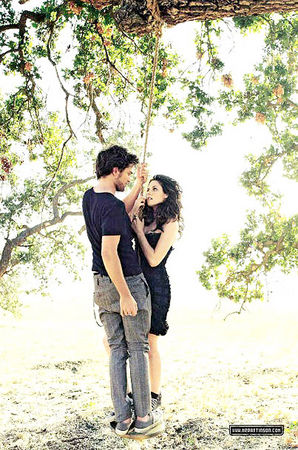 Robert Pattinson and Kristen
benthewraith
Nov 28, 08:18 PM
I haven't read all the post as yet, got to around post #50 but my sentiments pretty much reflect those of most posters.

However, if there is evidence that a bulk of the royalty (and I mean more than 50%) will go to artists then I can see justification in the process (but it should not be a flat $1 per device as the cost/profit of devices varies). But at the same time, Apple should get a higher share of the 99c per track as I believe the money they get per song pretty much only covers there management of the stored data and hosting on iTunes with very little profit per song - and this is understandable as Apple can leverage the iTunes store to drive iPod sales.

If the record companies want a profitable piece of Apple's pie (no pun intended) then Apple should be entitled to a profitable piece of the 99c download.

Same logic me thinks…

It won't happen. The way I see it, Apple stands a greater chance of being forced to raise it's prices on the store.
---
shoots for vanity fair
Will wait to see what exactly results from this, as right now it seems like everyone is just jumping to their own (wild) conclusions.
old, vanity fair photshoot
Nope, he looked it up on his computer and
told me preorders start Thursday for Radio Shack.

However, I would love to be proved wrong on that.

I was told by the employee at my local Radio Shack that they go on sale tomorrow June 15. Sorry I meant you can do the pre-orders. =)
---
robert pattinson and kristen
rezenclowd3
Dec 12, 06:05 PM
At least GT6 is already underway. (http://www.1up.com/news/gran-turismo-6-development-underway) (old news, but throwing it out there for those that don't know)
---
Kristen Stewart Robert
maclaptop
Apr 11, 04:51 PM
Where are all these bs claims coming from? Why wouldn't Apple release it in June as always?

I believe there are several factors at work causing this most likely time frame.

1) The effects of Japans disaster on parts supply.
2) Internal issues at Apple regarding more than one model being undecided.
3) Final touches being added to iOS5

Frankly I'd rather have a delay if it meant that Apple's going to make this one their best, most well debugged iPhone to date.

Their is no substitute for excellent final checks through quality control.
---
Robert Pattinson and Kristen
If anyone can answer me this question, it would be most appreciated :D

Does anyone know how many iPhone 4s Radioshack will be getting apart from those that they "reserved"?
---
Kristen Stewart Robert
kevingaffney
Mar 26, 04:05 AM
Wait until the first revision comes up! as always, the desperates install the new OS that come full of bugs and then complains starts "I lost all my data".

Just my 2cents.

Not to mention that this sort of upgrades just make you buying a new machine to run the system as it should.

Spot on. My mbp is my main works machine and my business depends totally on it. I'll wait for a few weeks even though I'm notoriously impatient with these things
---
shots of Kristen Stewart
The SuperMeet stage show aka FCP (or if **** hits the fan then iMovie Pro) preview begins at 7 pm.

7pm Vegas Time? If so, for others scheduling your availability like me :cool::

Pacific Time: 7:00pm
Mountain Time: 8:00pm
Central Time: 9:00pm
Eastern Time: 10:00pm
---
Robert Pattinson and Kristen
bedifferent
Apr 5, 07:50 PM
Interestingly this contradicts the information my friend on the design team hinted towards. I know the release is imminent so time will tell.
---
Robert Pattinson amp; Kristen
EVERYONE is missing something that MUST be updated A.S.A.P.!



AirPort Base Stations!

Express and especially the Extreme. The Extreme is YEARS old!!
:eek: :eek:
---
Robert Pattinson Life posted
dhollister
Sep 19, 12:49 AM
Does it even MATTER if Apple keeps up? Do we actually WANT Apple to release a new computer every month when Intel bumps up their chips a few megahertz?

See, it's easy to get lost in the specs war. The Mac Pros came out and I was salivating, even though I have a dual 2.0GHz G5 sitting at home. And then one day, as I was editing some HD footage, it occurred ot me that my G5 here - my now outdated G5 - was editing 1080p high-def footage without so much as a flinch. It was SO fast it was not even necessary at all.

So I really have to ask - does Apple really need to get into that stupid-ass PC specs war? Is it really hurting you guys that Apple has been slow to update? Are you really doing tasks that the current computer lineup cannot do?
---
maclaptop
Apr 12, 07:51 AM
Maybe they need to wait in order to get 28/32nm A5 chips. No point in having an iPhone 5 with a 3 hour battery life

Or maybe their waiting while the new antenna engineers they hired try and convince Steve to leave them alone to do their job.

They want to put the antenna inside where it belongs.

Jobs ego can't handle it.
---
Will those of us with 32 bit Yonah processors not have access to 100% of leopards features?
---
composer11
Jul 22, 03:50 AM
Got it. Thanks!

If you haven't seen it before, I found this (http://www.macminicolo.net/) very interesting.


Cool! LOL! :-)

Anyway, wondering if Apple will cut the prices the way the PC market dictates?? Anyone have any ideas? Apple is going to have to get used to ramping and changing the cores all the time, this is NOT IBM PPC, and Intel, AMD etc, release revesions of chips all the time, several times a year. In addition, one of the cool things about this is that the new desktops should allow you to buy the low end system and purchase a CPU and plop it in yourself, saving a bundle, unless of course they, being apple, stay withing market price of CPU's.

A good place to check current prices is..

www.pricewatch.com

Now if they where to solder them on, then I would fume and support the OSX86.org:D But seriously, from what I thought I read not to long ago, Apple is no longer "whoring" their RAM prices and are starting to reflect the "real" street prices of DDR.

IMHO, Apple is going to have to stay competitive with real street prices on their systems (CPU, Motherboard, RAM pricing) and the newer 2 Duo and Memron, Quads, etc are much lower than what IBM was charging them.

For the laptop segment, by the Holiday's, the MacBooks should be equal to the QUAD G5 in power, with the MBP 8 cores (2x4), and desktops in all various ranges.....especially with UB programs, all the way up to 4x4.

Now, if we could only get decent mic preamps, and everything wireless, guitar, etc, everything would be perfect.

Am still awaiting the device you place on your head and think about a song, idea, cartoon, and poof, it's done! LOL!!!
---
Blue Velvet
Mar 23, 06:11 AM
Libya is more like Bosnia than Iraq. A moment of force has the potential to change the scope of the conflict, hopefully for the positive, in a way that a full-blown invasion would merely complicate. That's the central part that fivepoint, who is merely interested in making another partisan screed, is ignoring.


Well exactly. Far easier to tag together some buzzwords, maybe pull something from FoxNews than it is to think critically about the issue. This inane comparison between coalition numbers was also picked up by Steve M.:

Fox Nation huffily declares that "Bush Had 2 Times More Coalition Partners in Iraq Than Obama Has in Libya." Bush's thirty-nation list, of course, included such global powers as Azerbaijan, Estonia, Latvia, and Uzbekistan, and didn't include the likes of, y'know, Germany and France.

But if we're going to play games like this, in the run-up to the war, how many coalition partners did Bush attract per week? The Libyan uprising started just about a month ago and Obama's coalition is fifteen nations. When do you date the start of the "Iraq crisis" the Bushies manufactured? The Axis of Evil speech, fourteen months before the war began? The Battle of Tora Bora, a month before that? The first administration meetings on Iraq regime change, mere days after Bush's inauguration, and more than two years before the Iraq War started? By that standard, Bush barely acquired one coalition partner a month! Obama obtained more than three partners a week!

I'm reminded of the 2000 electoral maps that measured Bush's vote by geography, as if winning a county with more jackrabbits than people was the equivalent of winning a county full of apartment buildings.

http://nomoremister.blogspot.com/2011/03/well-if-were-going-to-be-ridiculous.html


Meanwhile, Juan Cole lays out ten reasons why this is not like Iraq:


Here are the differences between George W. Bush�s invasion of Iraq in 2003 and the current United Nations action in Libya:

1. The action in Libya was authorized by the United Nations Security Council. That in Iraq was not. By the UN Charter, military action after 1945 should either come as self-defense or with UNSC authorization. Most countries in the world are signatories to the charter and bound by its provisions.

2. The Libyan people had risen up and thrown off the Qaddafi regime, with some 80-90 percent of the country having gone out of his hands before he started having tank commanders fire shells into peaceful crowds. It was this vast majority of the Libyan people that demanded the UN no-fly zone. In 2002-3 there was no similar popular movement against Saddam Hussein.

3. There was an ongoing massacre of civilians, and the threat of more such massacres in Benghazi, by the Qaddafi regime, which precipitated the UNSC resolution. Although the Saddam Hussein regime had massacred people in the 1980s and early 1990s, nothing was going on in 2002-2003 that would have required international intervention.

4. The Arab League urged the UNSC to take action against the Qaddafi regime, and in many ways precipitated Resolution 1973. The Arab League met in 2002 and expressed opposition to a war on Iraq. (Reports of Arab League backtracking on Sunday were incorrect, based on a remark of outgoing Secretary-General Amr Moussa that criticized the taking out of anti-aircraft batteries. The Arab League reaffirmed Sunday and Moussa agreed Monday that the No-Fly Zone is what it wants).

5. None of the United Nations allies envisages landing troops on the ground, nor does the UNSC authorize it. Iraq was invaded by land forces.

6. No false allegations were made against the Qaddafi regime, of being in league with al-Qaeda or of having a nuclear weapons program. The charge is massacre of peaceful civilian demonstrators and an actual promise to commit more such massacres.

7. The United States did not take the lead role in urging a no-fly zone, and was dragged into this action by its Arab and European allies. President Obama pledges that the US role, mainly disabling anti-aircraft batteries and bombing runways, will last �days, not months� before being turned over to other United Nations allies.

8. There is no sectarian or ethnic dimension to the Libyan conflict, whereas the US Pentagon conspired with Shiite and Kurdish parties to overthrow the Sunni-dominated Baathist regime in Iraq, setting the stage for a prolonged and bitter civil war.

9. The US has not rewarded countries such as Norway for entering the conflict as UN allies, but rather a genuine sense of outrage at the brutal crimes against humanity being committed by Qaddafi and his forces impelled the formation of this coalition. The Bush administration�s �coalition of the willing� in contrast was often brought on board by what were essentially bribes.

10. Iraq in 2002-3 no longer posed a credible threat to its neighbors. A resurgent Qaddafi in Libya with petroleum billions at his disposal would likely attempt to undermine the democratic experiments in Tunisia and Egypt, blighting the lives of millions.

http://www.juancole.com/2011/03/top-ten-ways-that-libya-2011-is-not-iraq-2003.html
---
somebody named Adam posted on http://www.9to5mac.com/63593/steve-jobs-takes-to-email-to-set-record-straight-on-location/#more-63593

Folks, this is all in the 1996 Telecommunications Act. The government way back then made it mandatory for all cel phones to track and record users. They also force all carriers to have back doors built into all devices to spy and steal your data. Look into it, this is pure evil and absolutely shreds the 4th Amendment.

The fact Senators are "demanding answers" is a joke. They were the ones who wrote the stinking bill. Why is Al Franken so clueless to this fact? Maybe they should investigate themselves first.

Want to get rid of this? Get rid of the nasty parts of the '96 Act and get your 4th Amendment back.
Wondering no-one knew about
---