Vince Carter Wallpaper
Dig deeper Watson. Turning off location services DOES NOT disable this feature. It is still logged, even with location services off. That's the whole issue the smart people have. There's no way to auto-truncate the file, and there's no way to turn it off.

Why should Location Services stop your phone from logging cell tower information, the same information your cell company logs?

Now if it's in Airplane Mode, then I'd wonder...

I don't think the "smart people" are all that smart if that's their issue!
---
Tracy McGrady / Vince Carter
crackbookpro
Apr 25, 03:51 PM
Ladies Ladies... they are storing information that should be private(yes, indeed), but let's not blow this out of proportion.

THEY ARE NOT FOLLOWING YOU!!!

The OS or iOS collects & stores this information like many platforms for specific reasons... Android, does indeed do the very same type of stored information of the 3 cell-tower's estimation of location.

The really REALLY bad news is that this information is stored in your iPhone as well as the actual device(Mac or PC) you sync your iPhone/iPad with. The information get's logged correctly... but what is not correct is how it is securely(insecurely) being stored - we are talking about Privacy.

THE iPHONE IS JUST NOT AS SECURE AS IT SHOULD BE!!!

The file should be stored(for technical specific reasons), but not with this lack of diligence on user privacy...

APPLE, you need a way to log this info in a much more secure atmosphere if the iOS does truly need this information for specific OS reasons.
---
Vince Carter: Actually
So the Apple crew is simply waiting on marketing until they release these new laptops? Exactly how much marketing needs to go into a slight update? I understand that these are 64-bit processors but the average consumer has no clue what that means to begin with. Waiting for the marketing crew seems really strange to me, should they have not already been ready for this transition by now? Just make a box on the front page that has a picture of a MBP and let it say "the fastest just got faster" or something.
---
Vince Carter Brook Lopez Nets
Hopefully Apple will take a cue from that.
Playbook . . . as in what sport coaches use to hold their plays . . . e.g. their next moves, their plans on winning the game.

A term that's barely used outside of north America. I wonder if RIM even thought of that?
---
doing a Vince Carter,
princealfie
Nov 29, 01:22 AM
You my friend, sound like a socialist...

I'm a Poststructuralistmarxist so perhaps that will help you guys out :cool:
---
Issue 51 Vince Carter
this is the paragraph from the article that makes more sense for Adobe users on the quad G5:

"SHOULD YOU BUY A MAC PRO?
Should you buy a new Mac Pro or a closeout or refurbished Quad-Core G5? If cost is a factor and you use non-UB pro apps (like Photoshop CS2), then we think the Quad-Core G5 is still a valid choice. After all, you can sell it on eBay when Photoshop CS3 is released and buy next year's "Octo-Core" Mac Pro."

It makes me itching now. I want a Mac Pro! :eek:
But I think wait for the "Octo-Core" will be rewarding alongside Adobe CS3.
---
Orlando Magic Vince Carter
LagunaSol
Apr 11, 04:24 PM
Browsing the Internet, Calendar, Checking Mail, Listening to songs, Texting, Multitasking, Notifications, Cut-Copy-Paste, ability to open and use Office files, basic tools like Currency converters, To-Do lists etc. These are what i believe encompasses in a "smartphone", and here's the newsflash: Android OS meets them perfectly.

"Perfectly?" Really?

I can do everything you listed above in iOS just as well as Android - and in many cases better - except in the area of notifications. An area in which iOS truly does suck. How Apple has not yet fixed this boggles the mind.

The iPhone was late on MMS, Multitasking, Cut-Copy-Paste, and now it's going to be a notification system.

If you're going to use "late" as a barometer of success, Android was "later" than iOS at doing just about everything else.

Plus, browsing the internet and checking mail is much better on a bigger screen.

Yep, like an...iPad? :p

I feel the App Store is just an added feature, and that's why i'd get an iPod Touch for.

Of course. Those bajillion apps, most of which completely destroy Android in quality, are an unimportant aside.

Android OS already has the "smartphone" features down, and they're just working on the bonus features such as the Android App Store.

If Google thinks like you - that the App Store is merely a "bonus feature" - this war will be won by Apple.
---
vince Carter
Man alive, if that's the nearest competitor investors must be feeling pretty good with Apple right now.

I certainly love my iPad.
---
Vince Carter, čovjek
Island Dog
Aug 25, 08:24 PM
Right. Because the whole "if your battery's serial number falls within this range, this range, or this range" concept was so terribly difficult to grasp.

Yep. My serial falls into the range and the website still won't accept it. I guess I will have to sit on hold Monday morning.
---
vince carter wallpaper dunk
shelterpaw
Aug 11, 03:23 PM
You guys are looking about a $500.00 phone...atleast.If it had all those features, it would be mure more than just a phone, I could easily party with $500.00.
---
Allen Iverson and Vince Carter
One app would be iTunes. I noticed iTunes was running 14 threads last night. Any time you have a multithreaded application or are running multiple single thread aplications more cores can help.

iTunes is generally so low-impact that it could be single threaded and you probably wouldn't notice. If the main thread is bogged down, I still get the spinny color disc with iTunes on occasion. It seems to do this sometimes when I sync an iPod, iTunes sometimes won't let me do anything else.

An eight-core system should be able to eight single threaded programs running at 100% of one CPU without issue. What I hope is that more programs that need the processing power can use the full power of more than one CPU so you don't need to multitask so heavily to take advantage of the power available.
---
Vince Carter amp; Kobe Bryant
Iconoclysm
Apr 19, 08:38 PM
The point is no one will ever confuse this with Apple's iPhone... But what Samsung is doing now is another story.

If you look at each item that Apple takes exception with individually it seems silly, but when you put them all together in a single device it's a twin to the iPhone... An iClone.:rolleyes:

Actually, the point was that Samsung did not have a grid of icons on the F700 until after the iPhone released...so Apple did not copy Samsung. Eventually, what you say is true.
---
Vince Carter - The Nets aren#39;t
peeInMyPantz
Jul 28, 12:50 AM
I'm hoping for Merom news at WWDC but Fujitsu announced Merom laptops that will only be available sometime in Q4 I hope the same isn't true for the MBP.

http://www.engadget.com/2006/07/27/fujitsu-to-add-core-2-duo-options-to-lifebook-n6400-series/
at least they made an announcement.

do you think apple will try to release core 2 duo notebooks as soon as possible, before Leopard? so that once Leopard is released, more users have to buy it separately. the longer the wait, chances are there are less users that will switch from their current MBP to the new MBP knowing that Leopard's release date is soon.
---
Keltner List: Vince Carter
If that's what you want to believe, fine. Respect my belief that it's perfectly fine, and stop making laws against me.
no one is preventing you from living with the person you love or having sex with him
Surely. Why do you believe you have any right or authority to dictate what two consulting adults should do or not?

And, if you do believe you (or a religious book) have that authority, then may I make the following statement to be equally as valid as yours:

Bill McEnaney should only engage in homosexual, sexually active relationships, and should never be engaged in heterosexual relationships, much less any that are anything but platonic.

Do you believe in the validity of my statement. Why or why not?

I look forward to your response.

Invalid because it endorses something that could cause the collapse of society
---
vince carter dunk - 94611
Since the release of Leopard, the subsequent releases haven't had the wow factor of before.

Just what I think anyway.

They haven't had the wow factor because they've been under the hood improvement releases rather than feature releases. Snow Leopard was the big one. Almost all the changes were under the hood. Lion is going to be a big feature release with a wow factor.
---
Vince Carter #15 of the New
Sorry I don't see that happening... Apple has basically always given developers a few months (to several months) lead time with the next major version of Mac OS X. That has taken place yet... so I don't see it being released at WWDC 2006.

He was referring to my post in which I was referring to MWSF '07, not the WWDC.

I still don't think we'll se a full release at MWSF but I think the date will be announced.
---
Vince Carter Photos
Thomas Veil
Apr 28, 04:51 PM
Jesus wasn't born in America, yet you don't see Republicans trying to keep him out of government.Highly droll. I see we're channeling Mark Twain tonight. :D
---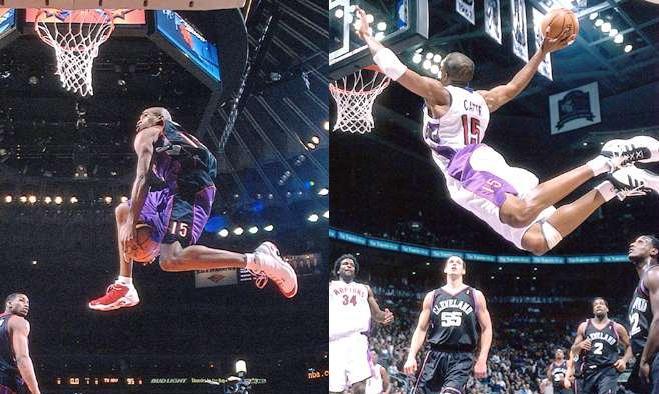 vince carter double dunkjpg
Super Dave
Aug 8, 12:54 AM
Part of the "Top Secret" stuff has got to be a new Finder... that Finder looked so boring during the Keynote... it just stood out. This release will have a two year gap and that means we are bound to see some Finder changes!

Spring '06 - still 8 months away.

Yeah, I can't imagine they won't update the Finder and Safari (with more than they've shown). We are far from seeing the end of Leopard, and I think Steve made that very clear.

David :cool:
---
Vince Carter (15), will be
Reposting my prediction from another thread:
Multimedia
Aug 27, 10:59 AM
Speaking of wish expectations Multimedia;

I know you're hangin' out for Santa Rosa. The article mentions that it's expected in early 2007. Do you think that would be the date for official announcement of production-standard architecture, or actual availability announcement?

Seems very early to be shipping...

I could go out in September and get a Merom notebook, but I don't mind waiting 6 months for Santa Rosa to hit the street.I don't expect the Santa Rosa setup to be ready before Leopard is next Spring. I was going to wait that long. But hanging out here makes me want something this Fall once Core 2 is in full swing - IE some of it hits the refurb page. :p

I'm thinking 17" MBP or MacBook depending on if MBP has the MB removable easy access HD feature. MacBook is really a bargain @ $949 refurb. I may even go for just a bottom of the line 1.66 GHz C2D refurb mini. But my penchant for spanning says a $949 MacBook at least. I've been a spanner since it became possible in 1986. Find one screen impossably confining - ESP since the 24" is also a TV most of the time thanks to Elgato's amazing EyeTV technologies.

Mac Pro does crush video about 33% faster than this Quad G5 does. Still not fast enough. But significantly faster than I can do it now. But so might the MacBook. I really can't say yet. My mind is in flux. Still have to test Core 2 Duo performance Vs. Mac Pro for my particular video crushing needs. Two bottom of the line Minis may be an option as well.
---
I will try to hang close to my computer for any questions.
---
ZoomZoomZoom
Sep 19, 10:02 AM
You should thouroughly read a post before you quote and attempt to disprove it, or in this case, call the poster a name like fanboy...

The poster before you mentioned how these "sub-$1000" laptops are JUST starting to ship THIS WEEK, not a month ago as you claim. If Apple were to release new MBP on Monday and announce them as "shipping today," then Apple would only mere days behind, not a month.

P.S. If you skipped to the end of this post again and are about to reply angrily, please go back and read the post as you will better understand what I am trying to say...

I found information on another forum and read it a bit incorrectly.

Nonetheless, even after re-reading sources (which a quick google of "shipping merom laptop" will bring up), Apple is at minimum a week and a half behind, assuming that shipping in blindingly fast. And seeing as they didn't update MBPs today - and (assuming rumors are correct) they might update next week, this puts Apple a solid two and a half weeks behind.

And that's on sub-$1000 notebooks.
---
In my opinion, they should have purely platonic, nonsexual relationships with one another.
Your ignorance is staggering.
---
Well, as its been said that only the bad issues get brought up, I'll share my feelings.
I've had nothing but good experience with Apple. When I first got my 5G iPod, I bought the old iTrip along with it from Apple.com at the same time. Well, of course, later I found out that model of iTrip was not compatible. I called Apple up and told them I bought an incompatible product that was listed alongside the 5G iPod on their site. Basically they told me I should be more careful next time to check for compatibility, but then they refunded me the full $40 and told me just to keep the iTrip. I sold it to a friend. :)

Later down the road, I managed to get a HUGE dent in the back of this same iPod, and it died. I sent it in for repairs, and they sent me a new one (or refurb) really quick, and free of charge. It wasn't even covered under the warranty! (physical damage, that is)

I'm running a 20" Intel iMac, and so far for 2 months I've had no problems, and I hear that once you're past the 3 month mark, you're probably good to go, so I'm waiting..
---